Drill Head for CNC Plasma Cutter
3 Axis CNC Controlled Drilling System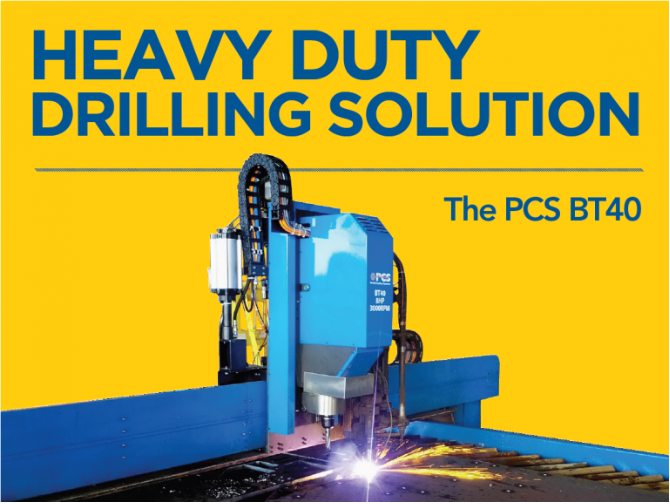 Have you got an existing Heavy Duty CNC Plasma cutter? Are you continually getting requests for drilled holes, thereby forcing you to double-handle your parts from your Plasma cutter to your old radial drill in the back corner of your factory?
Well, look no further – PCS have a cost efficient solution for you. Introducing the NEW PCS BT-40 Drill Head for CNC Plasma Cutter and Oxy Fuel Cutting Machines. This middle weight 3 axis CNC controlled drilling system uses the latest advancements in digital CNC technology to deliver unsurpassed speed and accuracy to drill your holes up to 30mm dia. faster than you can cut them! All in the one process by retrofitting this system onto your existing CNC Plasma cutter or Oxy Fuel cutting machine.  The PCS BT-40 Drill Head is also an option on all NEW PCS HD and EHD series Plasma and Oxy Fuel cutting machines.
The PCS BT-40 drilling system utilises state-of-the-art drive technology and software that focuses on ease of use. With a customisable tool library, your operator won't have to worry about speeds, feeds etc. They will simply need only to select what tool they wish to use. Or easier still, ask PCS about the 4 station Automatic Tool Changer.
Like all PCS product, the PCS BT-40 drill is designed and manufactured to the highest standards possible.
PCS BT-40 Drill Head at a glance:
BT40 Spindle with 8 – 14HP of usable drilling power
Drill up to 30mm diam (36mm, 14HP) using High Speed/Feed solid carbide tooling
Tap up to M20
3 Axis CNC Drill. Using Bosch Rexroth drives and motors with absolute encoders
Dual ballscrew for spindle feed and clamping of plate
Heavy Duty fabrication of lifter components and clamping mechanism
Nominal 500kg capacity on each spindle feed and plate clamp
Common Linear Rail for both feed and clamp with total of 8 linear bearings. This allows the spindle and clamp to be as close as possible to the machines main beam.
Unsurpassed drill depth accuracy achieved via encoder feedback from both plate clamp and spindle feed
Readily available components (non-proprietary drives, motors, cartridge spindle, rotary union etc.)
Thru-Tool coolant system for maximum drilling speed and tool life
Air Blast for swarf/debris clearing prior to plate clamping
Latest version Burny 10 LCD+ software compatible
Easy-to-use drilling interface and interactive tool library. Once the correct tool is selected, the machine will act autonomously via the part program
This PCS BT-40 Drill was retrofitted onto an existing Plasma Only PCS machine that was originally commissioned in 1999.
This PCS BT-40 Drill Head and 4 tool Automatic Tool Changer transformed the original Plasma/Oxy Fuel cutting machine by adding a completely new capability
Now watch as the machine seamlessly drills the holes and then Plasma cuts the part profile.