High Definition CNC Plasma Cutter
Precision Laser Cutting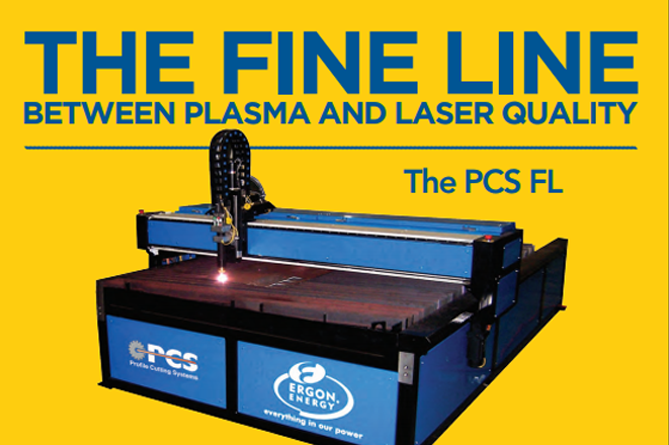 The PCS FL CNC plasma cutter incorporates the latest precision high definition plasma technology from KALIBURN and Hypertherm, Rexroth AC servo amplifiers, Burny 10 LCD Plus CNC and THK Linear rack/rail bearings. This combination of state of the art equipment and PCS expertise provides near laser quality cutting at a fraction of the Laser capital outlay.
The PCS FL plasma cutter is designed for high speed, high accuracy cutting of material up to 50mm thick. The superior construction of the integrated cutting bed, frame and fume extraction system allows for a clean and ultra-precise cut. The drive motors are at almost the same level as the cutting torch thereby minimising flexing and twisting forces and ensuring that the highest quality cut is produced.
PCS FL at a glance:
Cutting Width up to 2.5m (~8f)
Cutting Operations – High Definition Plasma, Plasma Bevel

Excellent reliability and longevity thanks to extremely ridged construction and quality components

Class Leading Burny 10 PC based CNC, independently mounted allowing full view of machine

Manufactured from NON-PROPRIETRY components

State-Of-The-Art Motion Control System – Bosch Rexroth digital drives and motors with absolute encoders

High Quality THK brand INTEGRATED RACK/RAIL for dual longitudinal drive

High Quality THK brand 32mm Ballscrew for cross axis movement

32m/min traverse speed

Integrated machine table and rail system is machined as ONE PIECE, providing unparalleled motion accuracy

OPTIONAL HEADS:
Near Laser Quality for a fraction of the price!