Profile Flame Cutting Machine
Fast, Reliable, Affordable

The PCS 1500 Profile Flame Cutting Machine is a proven performer for light to medium jobs. With the option of up to 4 gas torches and a Linatrol HL-90 scanning system (a.k.a 'Magic Eye'), the PCS 1500 is Fast, Efficient, Extremely Reliable and very Affordable.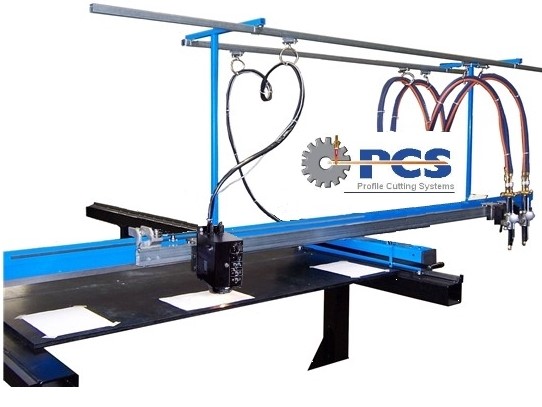 Tracing Range
WidthLength
1500mm 1000mm
Cutting Range
Stripping WidthLength
2100mm 2500mm
Number of Torches
Maximum of 4
Cutting Thickness Capacity
300mm with 1 Torch150mm with 2 Torches

100mm with 3 Torches

75mm   with 4 Torches

Cutting Surface Shape
Square Cutting (I-shape)
Straight Line Cutting
Possible when the four direction switch is used without energising tracer head.  Machine will strip (parallel out) in any of the four pre-selected directions.
Automatic Lead-in
Possible in four directions
Cutting Speed
100 – 1000mm/min
Tracer System
Linatrol HL-90 Tracing System
Drive
Co-ordinate drive by X and Y axis drive motors
Tracing
Circle Scanning Edge Tracing
Line Width
0.6mm and wider.  Silhouette drawing is permissible.
Kerf Compensation
+/- 1.5mm
Tracing Accuracy
+/- 0.15mm deviation from edge of line on straight line.
Position of Control Assembly
Left side (when facing machine)
Machine Travel
Roller friction travel controlled by DC servo motor with reduction gearing.
Cutting Oxygen
ON/OFF operations are performed by solenoid valves.
Cutting Oxygen Emergency Shut-off Solenoid Valve
Works on any emergency stop, linking with tracer.
Power Source
Single Phase, AC 110 / 240 Volts 50Hz / 60Hz.
| | |
| --- | --- |
| Burny Phantom II CNC Controller | The Burny Phantom II CNC adds exceptional motion control and useability with state-of-the-art HMI and touch-screen oriented graphics. |
| Cutting Table | Cutting tables starting at 2500mm in length can be provided on request.  See our Cutting Tables for more information. |
| Extended Length | For applications requiring greater than 2500mm in length, the PCS 1500 can be extended to suit. |
For more information on product specifications, price or custom requirements, please contact us.