Hypertherm Edge Pro CNC Motion Controller
Easy to use, with touchscreen


PCS offer the Hypertherm Edge Pro CNC as an option for either retrofit, or new machine build on all machines that do not have a CNC drilling head.
The Edge Pro offers precise and reliable motion control and provides the following benefits:
Ease of Use…
Using the CutPro™ Wizard new operators can be ready to cut production parts in less than 5 minutes.
Built-in two-station operator's console, with tactile joystick, speedpot, and torch position control for easy operation.
Network and USB access for part program loading and software updates.
Built-in help and cutting optimization tips for improving table performance and process outcomes on demand.
High Performance…
Cutting applications include high definition, conventional, duct cutting, single- or dual-bevel plasma capability, oxyfuel, laser, and waterjet.
Critical plasma, THC and table parameters can be controlled in the part program using Part Program Support (PPS) for repeatable cut quality.
True Hole Technology support for HPRXD applications.
Watch Windows™ enable on-screen real-time monitoring of key process performance parameters while cutting.
Custom cut charts can be created and controlled in the part program or made available to the CutPro Wizard.
Support for fast transitions from marking to cutting.
Reliability…
Durable glass touchscreen utilizing surface acoustic wave technology.
Air cooling to reduce stress on electronic components without dust ingress.
Designed and stress tested to ensure consistent operation in the harsh plasma cutting environment.
Intuitive hardware service kit helps rapidly isolate system errors.
Hinged doors and removable panel for convenient component access.2-year warranty standard.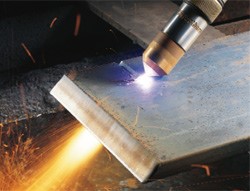 [Click here to download the Hypertherm EdgePro CNC Product Brochure